Gamification in HR Management
It's play that helps us do serious things better. – Daniel Debow
Gamification is a concept that is becoming increasingly present, but do you know what it actually means and how you can apply it in your HR processes?
Gamification involves application of game mechanisms and gamer's mindset in everyday situations, and it's increasingly applied in business. Gamified content captures the essence of a computer game, i.e. its attributes, such as fun, game, transparency, design, scoring, competition, but also "addictive" players, and is applied to a series of company processes. Application of these mechanisms proved useful in many ways, as demonstrated by major global companies which practice gamification (Deloitte, Marriot International Inc., PwC Hungary, etc.) and report numerous benefits of such method of organizing work processes.
Being a company which keeps up with the times, Assert recognizes advantages of gamification and, through the services it provides, it helps clients gamify their HR processes, giving them the opportunity to reap its countless benefits.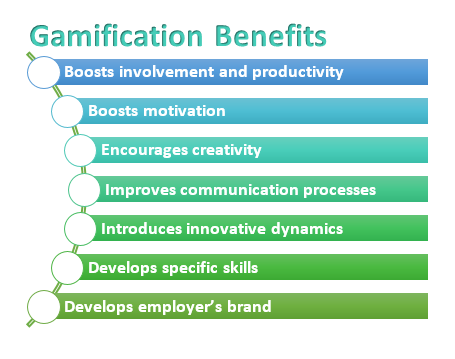 Gamified assessment
When assessing candidates or employees, we always strive to, above all, obtain reliable and accurate information about competencies being tested. This is because this information is used to make important decisions that may have implications at the organization level, such as decisions on hiring, reorganization, or succession. Gamified assessments are a modern version of traditional psychological tests and their advantage lies in the fact that psychometric test characteristics remain unchanged, while game elements are an additional benefit. From a candidate's perspective, testing through a game is appealing, while competition elements make testing a positive challenge which keeps candidates motivated and compelled to complete the game. This type of testing does not cause anxiety unlike traditional tests, and it's quickly and easily available on devices used by most people today. What's more, candidates' positive experience with testing is beneficial to the company as well, since it renders the brand stronger and helps the company position itself on the market as a modern and professional employer. Today, with businesses fighting over talents, this is a huge advantage, especially for companies wishing to attract millennials or IT staff. We at Assert believe that valid psychometric tests can (and should) have a modern form, so we included Revelian in our service portfolio. This technology enables a gamified assessment of abilities and emotional intelligence. Revelian's assessment through games is reliable in predicting candidates' work performance and is used as a screening tool efficiently, while at the same time attracting talents and making a positive employer brand.
Gamified learning and development
Learning and development are a natural context where gamification can be applied, since motivation and involvement have the utmost importance for positive learning outcomes. In the new era of corporate training, terms such as gamification and game-based learning are often used interchangeably, although they differ significantly. Gamification, in a wider sense, refers to application of game mechanisms to different aspects of a development process, while game-based learning refers to use of "serious play" for training and development. Did you know that numerous studies showed that games, especially video games, are considered one of the best learning formats? That's right! Owing to simulators and gamification techniques, "serious" video games enable greater involvement of employees, stimulate more brain regions, boost confidence, increase the amount of the content learned, guarantee direct training in a safe environment, and finally, enable more efficient and long-lasting learning. And all this while you're having fun! For all the reasons mentioned above, we established partnership with Gamelearn, the most awarded game-based corporate learning platform, and we are proud and glad to offer their "serious play" for development of professional skills. Interested? For more information click  here
Gamification of other HR processes
If you thought that HR gamification is used only in assessment and development processes, we have some good news for you – you can apply it successfully to onboarding, performance management, and implementation of company culture. And there's more. Our partner Gamelearn provides the option to adjust "serious" onboarding play to any content you give us, so that your onboarding process may become much more efficient and fun. Also, our certified LEGO®SERIOUS®PLAY® facilitators are there to help you ensure basic principles of company culture are internalized in a fun way, and to bring game elements to many other organization and team processes. Contact us and let the Assert team bring some play to your business and become your key partner for HR gamification. ​ ​