COVID-19 vs. business in Serbia
Market research team
The clash between businesses and the COVID-19 pandemic in Serbia opened up a number of questions – How to preserve liquidity? How to establish efficient work organization? How to support employees throughout the crisis? While some of the mentioned questions remain relevant even after the crisis has passed, new dilemmas emerge regarding devising activities which generate profit and maintain competitiveness on the market.
In order to help employers get the answers to all the questions asked above, our research team conducted an extensive market study.
The aim of our study is to acquire systematic insights into the efficiency of business strategies set and support measures introduced during the pandemic for businesses country-wide. These insights allow employers to improve their business strategies towards maintaining efficient performance – before and after the crisis
Here is the representation of our essential findings:
As much as 36,17% of employers directed their business activities towards maintaining liquidity, without focusing on additional profit.
It is worth noticing that, even throughout the pandemic, a large number of companies (over 48%) is taking strategic measures directed towards longterm business improvements based on systematic market insights and risk asessment, not just simple cost reduction.
TOP 5 Business strategies during the pandemic
According to the estimate of company representatives responsible, we have noted that the measures directed at preserving psychological wellbeing, motivation and productivity of employees were the most efficient – around 55% of persons in charge describe the measures taken as highly efficient.
TOP 5 most efficient business measures – estimate by company representatives responsible
Employee support measures considered as the most crucial are flexible working hours and support from direct supervisors – as well as clear and transparent communication of organizational changes, support regarding work organization and counceling aimed at providing support in overcoming the negative aspects of the pandemic.
TOP 5 most efficient business measures – employee estimate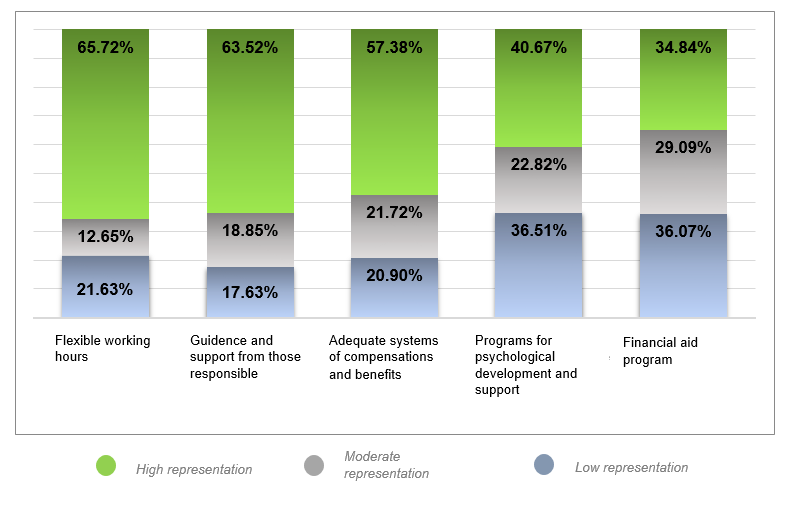 All additional information, market insights and suggestions for the improvement of support measures and the business reorganization in Serbia, as well as suggestions for further business management after the pandemic of COVID-19 will soon be available in form of a study on our website.